Amazon GK Basics Quiz Answers
Amazon Quiz Mania – GK BASIC Quiz Answers
Amazon GK BASIC Quiz , Amazon GK BASIC Quiz Answers , Amazon Quiz Mania , #QuizManiaOnAmazon– Hi Guys, Amazon Has Launched Few Other Quiz Under The Title Of "Quiz Mania" To Increase Your Knowledge On Various Topics Like Cricket , Bollywood , GK Etc.
This Time They Are Not Giving Any Price As This Quiz Mania is Purely For Fun Purpose Only. To Win The Prizes , You Can Play Amazon Daily Quiz , Amazon weekly Quiz And Amazon Monthly Quizzes.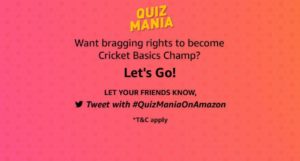 Quiz Mania is brought and made available to you by Amazon Seller Services Private Limited (ASSPL). The quiz is for entertainment purposes only, and designed for customers to test their knowledge on various topics. There are no rewards attached with these quizzes.
We Are Adding All Correct Answers Of Quiz Mania's Amazon GK BASIC Quiz.
Amazon GK BASIC Quiz – How To Play & Answers
First Of All Just Login Into Your Amazon Account
Now Just Go To Menu By Swiping From Left
Click On FunZone
There You Will See Lots Of Daily & Weekly Amazon Quizzes
Scroll Down Below & You Will See Quiz Mania – Amazon GK BASIC Quiz & 5 Other Quizzes
Just Click On GK BASIC & Answers Like Below :
Amazon GK BASIC Quiz Answers –
Question 1 – What is the common state animal of Jharkhand, Karnataka and Kerala?
Answer 1 is – Elephant
Question 2 – Which is the smallest sovereign state in the world both in terms of area and population?
Answer 2 is – Vatican City
Question 3 – What is the value of package that was announced by PM Modi to revive the Indian economy under "Atmanirbhar Bharat Abhiyaan" ?
Answer 3 is – INR 20 Lakh Crore
Question 4 – There are 3 secondary colors as per the RYB model, 2 of them are purple and orange. What is the third?
Answer 4 is – Green
Question 5 – The current Supreme Commander of the Indian Army is the ___ President of India. Fill in the blanks
Answer 5 is – 14th
Question 6 – The Government of India has recently launched the Instant E- ____ facility using Aadhar.
Answer 6 is – PAN
Question 7 – Which dinosaur's name means 'three horned face'?
Answer 7 is – Triceratops
Question 8 – What do the letters 'HB' on a pencil stand for?
Answer 8 is – Hard Black
Question 9 – The term 'sesquicentennial' refers to how many years?
Answer 9 is – 150
Question 10 – Which of these countries also celebrates its independence day on 15th August?
Answer 10 is – South Korea
Done !! You Have Successfully Completed The Amazon GK BASIC Quiz.
Also Play :-
Amazon Environment Day Quiz Answers – Win ₹25000 Pay Balance
Amazon Samsung Quiz Answers – Win Samsung Tab S6 Lite
Amazon Blog Day One Quiz Answers – Win ₹5000 Pay Balance
Amazon Business Extra Saving Quiz Answers – – Win ₹20000
Amazon Amazfit T-Rex Quiz Answers – Win Amazfit T-Rex Smartwatch
Amazon Indus Valley Quiz Answer – Win ₹10000 Pay Balance
The post Amazon Quiz Mania – GK BASIC Quiz Answers | #QuizManiaOnAmazon appeared first on Free Recharge Tricks-CoolzTricks Unlimited Paytm ,Free 3G 4G Tricks.